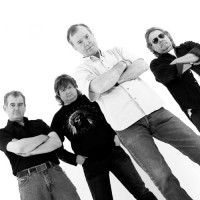 Legendara trupa The Animals & Friends va concerta in Jukebox Club (strada Turturelelor nr. 11), in data de 2 aprilie.
Din categoria trupelor de aur, The Animals a intrat in istoria rock-ului cu hit-uri fredonate de generatii, rulate oricand pe posturile de radio. "The House of The Rising Sun" "We Gota Get Out of This Place" sau "Don't Le Me Be Misunderstood" sunt doar cateva dintre ele.
Infiintata in Marea Britanie la inceputul anilor '60, trupa a trecut prin numeroase avataruri, avand o biografie tumultoasa, cu suisuri si coborari, cu mutari de pe un continent pe altul, cu schimbari de componenta.
Au devenit cunoscuti in SUA ca parte din "invazia britanica" Au ajuns cu zece piese pe pozitiile fruntase din UK Singles Chart si U.S. Billboard Hot 100. The Animals au fost inclusi in Rock and Roll Hall of Fame, in 1994.
Cea mai iubita piesa The Animals, "The House of The Rising Sun", este de fapt o veche melodie folk americana, cu origine necunoscuta, preluata si reinterpretata de o multitudine de artisti (de la The Beatles, la The Door, de la Sinead O'Connor, la Muse). Totusi cea mai cunoscuta si cea mai ceruta versiune ramane varianta The Animals. Criticii muzicali au comentat piesa in interpretarea The Animals ca fiind "primul hit folk-rock" (Dave Marsh), numind-o "un hit revolutionar", care "a schimbat pentru totdeauna fata muzicii moderne" (Ralph McLean, BBC).
Formula The Animals & Friends pastreaza in componenta doi membri originari ai trupei: John Seel - tobe si Mickey Gallagher - claviaturi (care de-a lungul anilor a colaborat cu The Blockheads, Paul McCartney, The Clash, Eurythmics). Alaturi de ei, au fost invitati muzicieni de calibru, "friends": Peter Barton (voce, bas, ex Boomtown Rats Roberts & Crowe, Wayne Fontana's Mindbenders) si John E. Williamson (voce, chitara, ex Titanic).
Sambata, pe 2 aprilie, la Jukebox Club, vor rasuna "The House of The Rising Sun", "Don't let Me Be Misunderstood" si alte hituri bine stiute. The Animals & Friends vor aduce o atmosfera in care timpul si spatiul pot fi uitate...
Biletele s-au pus in vanzare ieri, 7 martie, exclusiv prin Reteaua Eventim: magazinele Germanos, Orange, Vodafone, Domo, librariile Humanitas si Carturesti si online prin www.eventim.ro. Costul unui bilet este de 65 de lei pana in data de 2 aprilie si de 80 de lei in ziua concertului.
loading...