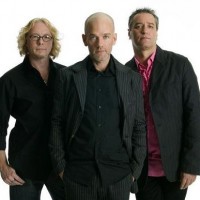 Trupa americana R.E.M. ofera in sfarsit detalii in ceea ce priveste lista completa a pieselor care vor fi incluse pe "Collapse Into Now", cel de-al 15-lea sau album.
Discul a fost produs de Jacknife Lee, cu care cei de la R.E.M. au lucrat si la precedentul material, "Accelerate" (2008). Lee este cunoscut si pentru colaborarile sale cu U2 si Snow Patrol.
"Collapse Into Now" a fost inregistrat in Portland, New Orleans, Nashville si Berlin, discul urmand sa fie lansat oficial in primavara lui 2011.
Tracklist album "Collapse Into Now":
Discoverer
All The Best
Uberlin
Oh My Heart
It Happened Today (featuring Eddie Vedder)
Every Day Is Yours To Win
Alligator Aviator Autopilot Antimatter (featuring Peaches)
Walk It Back
Mine Smell Like Honey
That Someone Is You
Me, Marlon Brando, Marlon Brando and I
Blue (featuring Patti Smith)
loading...