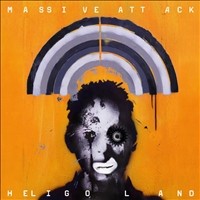 Massive Attack a anuntat aparitia celui de-al cincilea album de studio in anul urmator. "Heligoland" va fi lansat de Virgin Records - subsidiara EMI, in 8 februarie 2010 in Marea Britanie si pe 9 februarie in Statele Unite.
Mult anticipatul material discografic va beneficia de prezenta speciala lui Damon Albarn (Blur), Hope Sandoval, Martina Topley-Bird, Guy Garvey si Tunde Adebimpe - ca guest vocals. Damon canta de asemenea la bas pe piesa Flat Of The Blade si la clape pe Splitting The Atom iar Adrian Utley (Portishead) isi aduce aportul prin chitara de pe Saturday Come Slow. Trupa a mai colaborat cu Tim Goldsworthy (DFA) pe anumite piese.
Tracklisting-ul complet mai jos:
1. Pray For Rain - featuring Tunde Adebimpe
2. Babel - featuring Martina Topley-Bird
3. Splitting The Atom - featuring Robert del Naja/Grant Marshall/Horace Andy
4. Girl I Love You - featuring Horace Andy
5. Psyche - featuring Martina Topley-Bird
6. Flat Of The Blade - featuring Guy Garvey
7. Paradise Circus - featuring Hope Sandoval
8. Rush Minute - featuring Robert del Naja
9. Saturday Come Slow - featuring Damon Albarn
10. Atlas Air - featuring Robert del Naja
loading...